I'm starting down a new path with blogging. More me, more authentic…less worrying about what people think or who's reading. Some where along the path on the orginal just-thauna.com I lost myself. I worried too much about what people thought.
So I'm going to reboot.
Shrek is right and I too am like an onion. Just when I think I've figured out who I am I realize I have another layer to peel away. I've been on the quest of self discovery since about 35 when I got divorced, fell in love with the wrong man, fell in love with another wrong man and wallowed in depression for what felt like forever.
Little by little I found joy again. And piece by piece I've been figuring out what makes me, Thauna. My twenties and early thirties were about making other people happy. The (ex)husband and the little people, my family and friends. Slowly I have discovered that Thauna gets to be happy too. For a time in my mid-thirties I couldn't even tell you what made ME happy. But I could give you a list of things that made other people happy.
The journey to finding a happy place for me has been interesting. Ups and downs and lots of soul searching and talking. And thinking and pondering. More talking. I process by talking and by listening to other people stories. We are all so fascinating.
Sometimes the happy place eludes me and some days it's a moment to moment thing. I'm going to keep striving for it, every day. Every moment.
And here I'm planning to document my journey. Life. Family. Work. Travel. Dreams. Inspiration. Books. Movies. All of it. I want to devour the good stuff and find the stuff that makes my heart sing. But I also realize that the gloomy days help me to appreciate the sunshine and in some ways they have their own beauty. So I'm not going to be completely Pollyanna here. But authentically Thauna.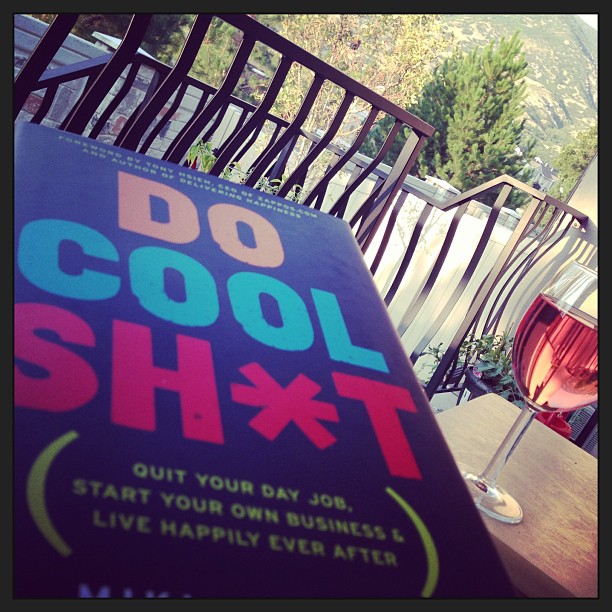 This photo represents things I want time for in my live. Relaxing on the patio, nice glass of vino and a good book to feed my mind and soul and provide some sound motivation. And I love the bit of mountain view I have. The book by the way is great, but I must admit I have not finished it yet and this instagram is from last August.
Do Cool Sh*t – yeah, I want more of that
Quit your day job – still an eventual goal and I have moved to part-time
Start your own business – check and things are going very well
Live happily ever after – working on it each day
Now I'm off to go do some cool sh*t with my day.