M O N D A Y:
Monday, Monday
So good to me
Monday morning
It was all I hoped it would be
I really dig Mondays. And this is the first Monday of a new month. The first Monday after my birthday. So it's almost like New Year's Day here for me! I love fresh starts, they make me feel like I can take over the world. Or at least take over my little corner of the world. I let my goals and intentions for the new week soar and my imagination run wild with possibility. Five things I'm doing this morning to make sure I own this Monday.
1. Morning Mantra – I've been reading "Thank and Grow Rich." She suggests each morning you say or think to yourself "Something amazingly awesome is going to happen today." I have a reminder set on my phone for each day at about the time I wake up. You can change the statement to something that feels good to you but the point is to start the day knowing something awesome is going to happen and then you are looking for it subconsciously throughout the day which as a result helps to me mindful of the little things that are awesome each day. My awesome things have ranged from a new client, a phone call from a friend, the Raiders winning a game. Keep your eyes open to whatever your awesome things are during the day and then you will having something for #3 in the evening.
2. Gratitude – I've been using the 5 Minute Journal app for about a month or so. I love it! Each morning I write 3 things I'm grateful for (large or small) and 3 things I'm going to do to make the day great and 1 affirmation. In the evening I add 3 Amazing things that happened that day. And anything that would have made the day better. And you can add a photo for the day. This app is awesome to keep me focused on what I'm grateful for and remember the amazing things that happen each day.
3. Mindset Journaling – I try to do this for a few minutes every morning, but it's especially important on Mondays. It's a little bit affirmations mixed with goals and intentions. I sit down and write about what I want flowing into my life as if it is already is. I also write more of what I'm grateful and gratitude for the things I want to come into my life. I used to think this would take me so much time and put it off, but 5 minutes is great on a busy morning to get me started.
4.  Post on IG – Instagram is my jam. It's my favorite place to hang out and engage. I've been struggling with my business page IG presence…I worry about it too much. It's hard to stay "on brand" for me because what fun is that? Who wants to follow a feed that is all one thing? All Websites or inspiration or business tips, etc. There are a lot of elements to my brand and some of that is just my creativity and personality. I try to mix it up and demonstrate my brand, my work, my personality and what's going on in my life. My Bellano Web Studio page is here and if you'd like to follow along with the real life including the grandbaby you can find me here as well.
5. To-Do List – I use Basecamp for design projects so I keep a overall to-do list there for non-project tasks as well since I'm there everyday. But I would like to find a great to-do list app that I love. I've tried several and not found one that I really love. Do you have any recommendations?
Do you love Mondays or dread them?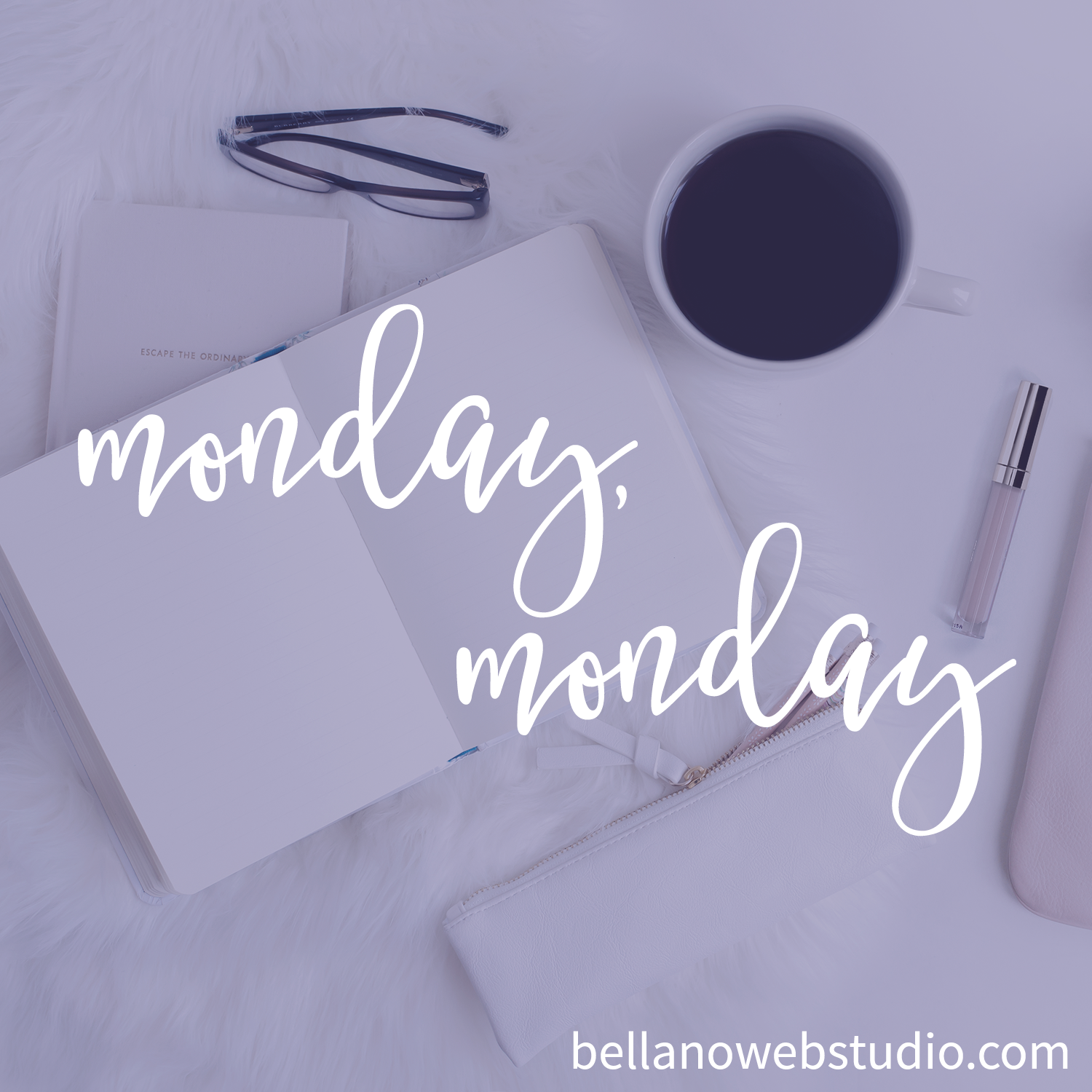 Save
Save
Save
Save
Save