For the past couple of weeks I've been feeling overwhelmed and wondering if I have taken on too many projects.
But then again, what else am I going to do watch TV? (Well, yeah I love TV, my DVR is about half full of things I haven't had time to watch) Of course, I could read instead of work. My to-read pile is pretty tall.
I try to follow the idea of doing what you love will bring you joy. Then I'm golden. I love design and photography. So it's all good. And this month I'm blessed with plenty. So I just thought I'd just share my to-do list for the weekend. I love all that I have going on, but maybe I'll sneak a movie in this weekend. Maybe.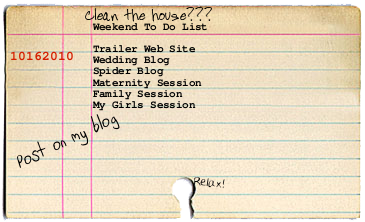 Make your own card. Thanks Lizzi for sharing these fun library cards! What are you doing this weekend?